About The Federal Market Institute

The Federal Market Institute specializes in training for managing public contracts. We maintain an extensive library of current training courses in the Project Management Body of Knowledge (PMBOK) the Contract Management Body of Knowledge (CMBOK), Leadership, Teambuilding and Winning Government Contracts and Grants. All subject-matter is modularized, quickly tailored to the individual client requirements – technology-based and instructor-led.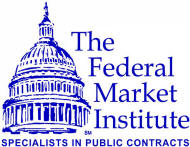 Professional Achievement is one of the most important motivators for adult learning. The Federal Market Institute Total Learning Concept© is designed to facilitate personal efforts by offering programs that:
A. Consistently Follow the Principles of Adult Learning
B. Use Audio - Visual Aids Extensively to Reinforce Learning
C. Provide Competent, Highly Motivated Instructors
The Federal Market Institute Certifications include:
1. Registered Global Education Provider – Project Management Institute (PMI) Professional Development Units (PDU) awarded for Training

2. American Council on Education (ACE) College Credit Recommendations for Training

3. International Association for Continuing Education and Training (IACET) Continuing Education Units (CEU) awarded for Training

4. Registered Education Provider – National Contract Mgmt. Assoc. (NCMA) Contract Management Education Units (CME)

5. Continuing Professional Education units (CPE) and Continuing Legal Education (CLE) Units are available on a state-by-state basis.
Clients Include:
Computer Science Corporation (CSC), EG&G, Inc., NASA, American Red Cross, CHEVRON, Department of Energy, U.S. Army Corps of Engineers, Lockheed Martin


Back to Top